HAUNTED – Don't ever dare to visit these place's in INDIA.
India is often considered as a land of undiscovered mystery. For centuries, travellers from around the world who have made their journey to India have been fascinated by the mystical energy that surrounds the country. From religious practices to rituals that are quintessentially Indian, these traits have made India a popular tourist destination. Therefore, when it comes to listing the most haunted places in India, there is not better country to start with.
These abandoned places in India have become places of interest for those who are fascinated by the supernatural. For those who are too afraid to visit these places in person, reading about and sharing stories of these mysterious places in India might be the next best thing!
list of Most Haunted Places in India:
Dumas Beach- Gujarat
Dumas Beach in Gujarat already has an ominous ring to its name. Therefore, it is not surprising that it is considered as one of the most haunted places in India. This beach is located very near Surat, one of the developed cities of the state. This particular beach draws countless visitors almost every day as legend has it that the winds which blow fiercely come along with whispers.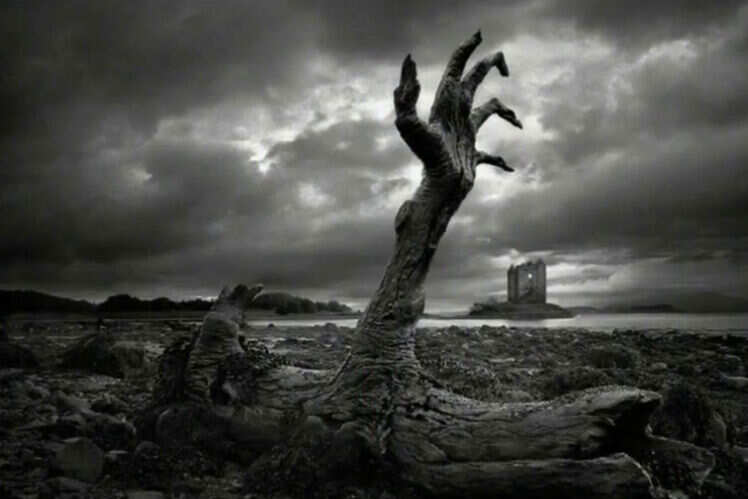 It is also believed that this beach was for long used as a Hindu burial ground, therefore, being the resting place of tortured souls. There have also been reports of people disappearing mysteriously and having never been found again. However, if you still want to visit the beach to do some exploring of your own, then go ahead and do so if you have the stomach for it! You will find Dumas Beach one of the most mysterious places in India. 
Bombay Supreme Court – Bombay
Ghost in court? Court name is Bombay High Court? Is it possible? Really, it sounds so funny. But maybe it's just a rumour, but many people who worked in Bombay high court said that a court room have experienced some disturbances by ghost for last 30 years. It is heard that some paranormal presence suddenly curses and terrify people there. People heard some ghastly voice that is threatening accused not to enter into the room. Especially in murder cases. Sometimes he threatens murder crime suspects not to enter in his courtroom. Probably he knows the truth, isn't?
Indian Ghost Town of Bhangarh – Ajabgarh, Rajasthan
The Indian Ghost Town of Bhangarh, Rajasthan is one of the scariest places in India to visit, in addition to being one of the most abandoned places in India. However, this tag has not perturbed visitors from making frequent trips to this ghost town.
The story which this town is well-known for tells the tale of how a magician who was in love with the local princess of the area was forbidden to ever fall in love with her. Unhappy with the decision, he decided to cast a spell on her to make her surrender to him. However, the princess, who was also a disciple of the occult learned of his plans and found a way to kill him.
Agrasen ki Baoli, Hailey Road – New Delhi
Do you know how it feels to be stalked? Being constantly watched and followed, wherever you go. It is even more terrifying when the entity following you is not living and unknown. The Agrasen ki Baoli, is an age old step well located on Hailey Road in New Delhi.
It is very popular for its antiquated architecture, but unfortunately has no records of who built it and when. According to the sources, people who have visited this Agrasen ki Baoli claim that something invisible followed them and the faster they ran the quicker it chased. Presently this sight is being taken care by the ASI, since it has historical significance.
Mukesh Mills – Mumbai
Mukesh Mills is one of the most famous haunted places in India. Due to a disastrous fire at the mill, in the year 1980 it was shut down.  Since then it has been deserted. This place came to limelight when the film industry started using it for shooting horror movies. But the cast and crew of these movies started witnessing paranormal activities.
Even today several actors say no to shooting at this mill. One of the most told tale is when one of the actresses who was at the mills shooting for a movie warned the crew members to leave the place immediately in a manly voice. They all believed that she was possessed by a spirit who dwelled in those mills.
South Park Cemetery – Kolkata
Built in 1767, South Park is one of the oldest cemeteries in India. It is located in Kolkata. Trespassers have reported seeing shadows here and have also sensed some paranormal activities.
The stories state that whoever visited this place experienced dizziness and fell sick. Some of the unusual occurrences at the South Park cemetery were captured through cameras. The locals do not enter this place after sunset. It is one amongst the creepiest haunted places in India.
How to reach: Cheap flight to nearby Kolkata airport from Delhi just for INR 3,205.
The Mansion, Residency Road – Pune
Are you on the Residency Road in Pune? Did you come across the frightening sight of the Mansion? Now wait because you would soon hear terrifying sounds, weird laughter and loud screams late at night. The locals tell a tale that this place is haunted by a wicked old lady.
Those who have been victims of this experience, call the Mansion one of the most haunted places in India. Don't take up a challenge and explore this place, because the residents here vouch for its spookiness.
How to reach: Cheap flight booking to nearby Pune airport from Bengaluru just for INR 2,097.
Kalpalli Cemetery – Bangalore
The Kalpalli Cemetery is situated on the Old Madras Road in Bengaluru. It is also known as St. John's Cemetery. The sources state that, those who traverse on this road have come across a ghost like entity at this cemetery.
They claim that a human figure is often seen on prowl at the cemetery. If you are a weak hearted person it is advisable that you keep away from this cemetery.
How to reach: Cheap flight to nearby Bengaluru airport from Mumbai just for INR 1,905.
AUTHOR : RITESH RAI